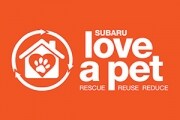 We had a howlin' good time at our 
annual  
 Love  a  Pet Event. 
 We partnered  with local  organizations  to help our fuzzy friends  
 find
their Furr-ever Homes.
The Augusta SPCA and Virginia Paws for Pits brought adorable pets who needed loving homes and Bob Wade Autoworld paid $25 towards the adoption.
We had lots of fun giving away prizes and enjoyed lunch from Steve's Famous BBQ brought by Relay for Life. Trainers and groomers were on hand to provide insight and services.
It was a big success and we can't wait to see you again next year.
A big thank you to all who participated. Augusta SPCA, Virginia Paw for Pits, Pendleton Animal Welfare Shelter, Relay for Life, Kristen's Mobile Grooming, Balanced Dog, Happy Hounds Doggie Day Care, Blue Ridge Dog.