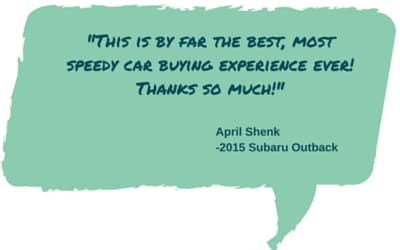 New Cars for Sale in Harrisonburg, VA
Bob Wade Subaru is a great place to visit if you're in the market for a new car. We're always delighted to offer a large selection of cars, and our new inventory is impressive. This means you have a chance to see many options that include vehicles with various trim levels, exterior designs, and interior features that leverage the power of technology. If you are searching for a new Subaru in the Harrisonburg area, let us help you out. Whether you're looking for a new Outback, Impreza, Forester, or more, you may very well find it at our dealership. Each year, you can look forward to the arrival of new 2021-2022 Subaru models on our lot. We also have a Subaru team of knowledgeable salespeople that can answer your questions and point you in the right direction.
Although buying a new car is thrilling, you want to ensure due diligence so that you make a wise selection. The more options you have, the more likely you are to find what you want. Just as important, the more likely you are to get what you need. What's also great about our Subaru dealership is that the inventory is always changing. That means we'll often have a fresh selection of new vehicles from which to choose.
Benefits of Buying a New Car
New Subaru Inventory Available at Bob Wade Subaru
Any car that you purchase is an investment, and there are advantages associated with buying a new vehicle. At Bob Wade Subaru, we understand that buying a car is a special occasion. Check out the latest Subaru Crosstrek lease options, Outback deals, and Subaru Impreza pricing. We also recognize that you want to choose the best option based on your criteria. When you're trying to decide between a new and a used vehicle, you should be aware of the advantages associated with buying a new car. For instance, you have a greater chance of getting what you want. That means you can select the exact color and interior features that you've been wanting. If you're like most people, you've been thinking about buying a car for some time, and a new vehicle allows you to make your dreams a reality.
Bob Wade Subaru Financing Center
Subaru Financing and Leasing Available Near Harrisonburg, VA
When considering the benefits of a new car, one thing that should be on your list is financing. That's because new car loans often have lower interest Subaru rates than used car loans. This could be significant in some cases and become the determining factor in whether you choose a used or new car. Everyone's situation is unique, and this is one factor to consider. Another benefit that's at the top of the list is that no one else has owned the car before. That means you won't have to worry about its history or problems that might occur soon.
Quality New Cars
At Bob Wade Subaru, we are committed to quality. This includes quality service and the quality of new vehicles on our lot. Each new car at our dealership is inspected to ensure it's in great shape. As a result, you can have greater peace of mind knowing that you have a high-quality vehicle. It's also worth noting that new cars often have the latest safety features integrated, which means it won't require an upgrade.
Visit Bob Wade Subaru in Harrisonburg, VA Today
Are you ready to go for a test drive? Visit Bob Wade Subaru today or give us a call. Perhaps you think that the all-new Crosstrek, Ascent, or Legacy is what you're looking for in a new car. To learn more about the latest releases from Subaru or inquire about what we have in stock, don't hesitate to call us or explore our online inventory. Our sales team is here to answer any questions that you have and help you find the vehicle you want.
---
Learn More About The 2021-2022 Subaru Lineup
Bob Wade Subaru
2941 S Main St
Harrisonburg, VA 22801
New Subaru Models in Harrisonburg
Proudly serving Harrisonburg, Dayton, Elkton, and Massanetta Springs VA