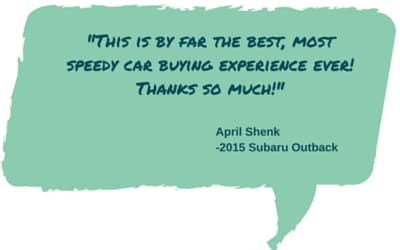 New Cars For Sale in Harrisonburg
Serving Harrisonburg and Bridgewater, VA
Looking for that perfect new vehicle? Have you had enough of all the runaround from other dealerships misleading you with their inflated MSRP numbers? If you're looking for a whole new car-buying experience, Bob Wade Subaru is your answer. Our incredibly large selection of new cars ensures that our inventory is constantly changing, and that is great news for new vehicle buyers. The latest addition to our model lineup is the new 2019 Subaru Ascent, a great family-sized SUV with up to 8 passenger seating.

From frolicking Foresters and incredible Imprezas to outstanding Outbacks and everything in-between - there's a brand-new Subaru waiting with your name on it at Bob Wade!
The Benefits of Buying New
Next to the purchase of a home, it's often said that a new motor vehicle is one of the most expensive indulgences the average person will make in his or her life. And sure, a new car is indeed a major investment, but the advantages that come along with one make such an investment a sound decision. Consider first and foremost that when you buy a new car or truck, you are the boss - you can consider a variety of vehicles in the size and price class you're comfortable being in. Not only can you then test-drive them all, you can select your favorite shade of color, accessorize it any way you'd like and add all the features you'll ever need.
Like leather seats over cloth? Check. Want to add a booming sound system that will shake the houses you drive past? You got it. Are you into high-tech gizmos like advanced navigation systems and smart features? No problem.
Perhaps best of all, with a new car, if you don't find what you're looking for in a showroom, on a dealer's lot or online, your salesman can special-order a car to your precise specifications. Of course, expect your "customized" ride to take more time with regard to delivery as compared to a car you'd pick off the lot.
Aside from these factors, the benefits of buying new also include:
- Strong resale values among popular models
- State-of-the-art available features
The Quality Offered by New Cars
Before going up for sale in our dealership, every new vehicle at Bob Wade Subaru is given an exhaustive inspection on top of the factory assurance of quality. Here's something else you should be made aware of: New vehicle quality is at its highest level ever, having improved by four-percent in the past year, according to the J.D. Power 2018 U.S. Initial Quality Study (IQS).
We invite you to contact us or visit our inviting, comfortable dealership so you can test-drive the new Subaru of your dreams!
Bob Wade Subaru
2941 S Main St
Harrisonburg, VA 22801
New Subaru Models in Harrisonburg
Proudly serving Harrisonburg VA, Dayton VA, and Massanetta Springs VA