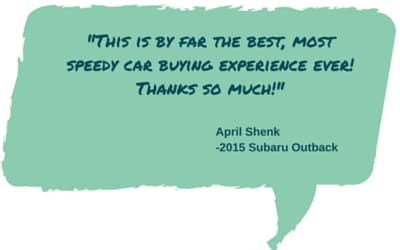 New Cars for Sale in Harrisonburg
Serving Harrisonburg and Bridgewater, VA
Looking for that perfect new vehicle? Whether you are looking for a new Subaru Outback, Impreza, Forester, or more, Bob Wade Subaru is your answer. Each year, you can look forward to the arrival of new Subaru models on our lot. We offer a broad selection of vehicles, which means that you always have a variety of cars to choose from. If you have been waiting to try out the all-new edition of your preferred Subaru, we invite you to call in advance or preview the inventory online. If we have the car you are looking for, you are encouraged to schedule a test drive.
Benefits of Buying New Cars
There are many reasons to consider getting an all-new vehicle if you are searching for a new car. There are many advantages to purchasing a new car. When you buy a new car, you buy it knowing that you are the first owner. This means there are zero miles on the odometer. If you are looking to get the most mileage out of a car, you will benefit from a new vehicle. As the first owner, you also have peace of mind knowing that the car came right from the manufacturer. Therefore, you don't have to worry about the car's history and its previous owners. Since you are the first to drive the car, you can also take advantage of the fact that the car comes with a warranty. Today, most warranties last for about 60,000 miles or three years. Extended warranties can add additional coverage to a vehicle - sometimes up to 10,000 miles or 10 years! 
Another benefit of owning a new car is that you get the latest in technology, safety, and style. This means you get the newest software that Subaru adds to its cars. You also get the most advanced safety features that Subaru offers. Depending on the model and trim level, you may also get more standard amenities than were even available on the same model just a year before. Only with a new car do you get the chance to give your vehicle a custom finish. If you want leather seats, heated seats, exterior accents, or a sunroof, you have that option only with a new vehicle. 
Quality New Subaru Cars
Of course, if you are spending all that money on a new car, you'll want some peace of mind that you are getting a quality car. Fortunately, we lay your worries to rest with our high standards for vehicle quality. Every car that arrives on our lot is put through an extensive inspection process to make sure that it is safe and sound for you to drive. Even the new cars that we receive are checked to ensure they are problem-free, inside and out. If you want to learn more about our inspection process or inquire about a specific car, don't hesitate to contact us. 
Contact Bob Wade Subaru Today
Perhaps you think that the all-new Subaru Outback, Forester, or Legacy is what you're looking for in a new car. To learn more about the latest releases from Subaru or inquire about what we have in stock, don't hesitate to call us or explore our inventory online. While you never know in advance what you might find, you'll always be able to take a quality vehicle for a test drive. 
Bob Wade Subaru
2941 S Main St
Harrisonburg, VA 22801
New Subaru Models in Harrisonburg
Proudly serving Harrisonburg VA, Dayton VA, and Massanetta Springs VA